Five Secure
the experts in
Personal Protection Solutions
&
Lone Worker Safety
that you can really count on!
Be Safe Be Smart App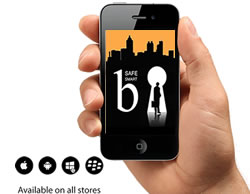 Five Secure brings together an extensive suite of unique & ground breaking products & services for those who need to have the assurance of high quality and advanced technology.
Our experience dates back to the 1970's in providing security systems, intelligent services and protective devices to both market leading companies and to individuals.
Included in our application is proprietary software, with intuitive end-user functionality that is used to its full effect and is watched over by one of the most up to date, state-of-the-art Alarm Receiving Centres in Europe (ARC).
The App delivers the ultimate in protection and life support system for any lone worker or vulnerable persons anywhere, any time.
Watch over me personal security device
Watch Over Me is a self-contained personal security device compliant with the needs of BS8484. Discreet and easy to wear, the Five Secure "Watch Over Me" unit is used to protect lone workers, security personnel, care workers, health care professionals, community carers, assisted living needs, vulnerable people and VIP's.
The device can be used on anyone who is on the receiving end of verbal abuse, attack or who encounters threatening situations. Pressing the SOS alert button will send an alarm to any nominated VIP Guard, Assistant, Call Centre or Alarm Receiving Centre (ARC), where an expert can listen in, assess, record and send assistance.